Gigs and Anarchy Events of the Month - Bu ay olacak konserler ve anarşik aktiviteler

25.04.2004 : KONSER VAR! Gruplar-Bands : Cidesphere, Core, Assassination, Decaying Purity (Grindcore), Despised, Mictian, Missed Clown (Metalcore), Screech Mekân-Location : Equinox Bar [Osmanağa Mah. Kırtasiyeci Sok. No:32 Kadıköy İstanbul] Zaman-Time : 25.Nisan/April.2004 13.00 Ücret/Price : 5 Milyon TL Ayrıntılı Bilgi-More Info : http://www.metallicbrains.net/Poster (L) Poster (S)
08.04.2004 : KONSER VAR! Gruplar-Bands : The A.Y.I.L.A.R (Oi! Punk), Cemiyette Pişiyorum (Post Punk),


Olucak konserlerden ve aktivitelerden beni haberdar ederseniz sayfaya koymaktan mutluluk duyarım. If you send me gigs and events of the month, I will be happy and I will add it to site.



-----------------------------------------------------------------------------------------------------



Posted on 27.04.2004
25 Nisan Konseri iptal oldu ve hepimiz bence iptal olduk. Trade falan yapacaktım kaldı neyse 8 Mayısta 2 tane baba konser var herkescikleri bekleriz. Ekstra bilgi : Noizine.Net Webzine Forum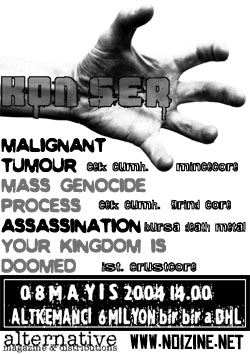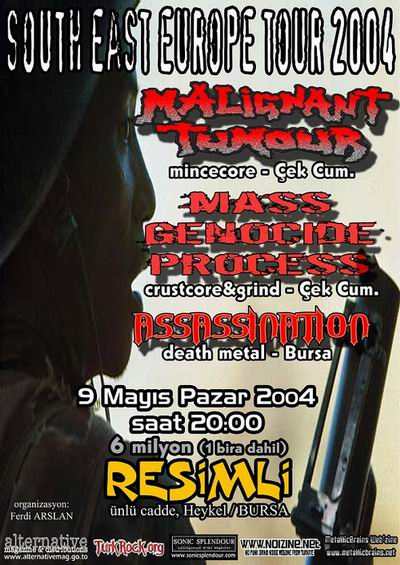 Posted on 13.04.2004
Hi everyone. Distro continue and new items came and sold out (vinyls) but I couldn't add the site because my computer was broken down :(. I and my computer are okey now and waiting new trades :P. I am working on my new fanzine nowadays. 8-9 A5 pages are done and I have many ideas for more. I am working with my friend as collective to finish it.

Today I met with a girl. She asked to me and my friends, how she can find punk/hardcore/trash concerts. We told to her, that she must search them because Turkish DIY Punk/Hardcore scene is very young and the fucking pubs only allow cover bands. She told to us, that some german bands want to come here and play. If you have a band and want to come here to giving some concerts, you will write Noizine.Net's forums to contact some people or just send e-mail to Turkish DIY distros.



Gidin ve bu konseri izleyin!

[..:Propoganda / News Archives:..]