Gigs and Events of the Month - Bu ay olacak konserler ve aktiviteler

DELİ GÖMLEĞİ KONSER!!!
21 nisan 2005 saat 18:00 7. istanbul itü rock festivali itü ayazağa kampüsü,maslak
24 nisan 2005 kadıköy roll-inn bar (altıyol mcdonald's arkası)
info : www.geocities.com/deligomlegi2 , www.deligomlegi.net
KONSER!!! 10 Nisan - İstanbulda Konser Hardcore-Punk Kardeş Sistem Kalleş!!! Crust, Hardcore, Punk, Günü.
Your Kingdom Is Doomed! (HC/Crust), The A.Y.I.L.A.R. (Oi!/Street Punk), Lifelock (Oldschool HC), Dead Army Boots (Anarcho Punk)
Tarih: 10 Nisan Pazar Saat: 15:00 Yer: Beyoğlu Pulp Bar (Eski Zürich) Kontak: 0532 760 45 09
KONSER!!! 07.05.2005 Cumartesi Saat 15.00 Kapı Açılışı 16.00 Giriş: 10 YTL (Biletler Biletix ve kapıda aynı fiyat) Yer : Taksim VOX
Gruplar :
Last Hope (Bulgaristan / Hardcore)
In Between (İzmir / Emocore)
Lifelock (İstanbul / Hardcore)
Bleed Myself Tonight (İstanbul / Metalcore)
Organizasyon : ACME ORGANIZATION
Poster


Olucak konserlerden ve aktivitelerden beni haberdar ederseniz sayfaya koymaktan mutluluk duyarım. If you send me gigs and events of the month, I will be happy and I will add it to site.



-----------------------------------------------------------------------------------------------------



Posted on 30.04.2005
Hi all. I prepared some of pages for my new A5 fanzine. Everyday, some little ideas are coming to my brain and I try to make them. I am prepare new trades with my nice laziness :). Sorry streetsoccer and ANC. :)
Second organization (?) of ACME Organization is coming up. I guess this is going to be first big organization, but however big organizations have a big mistake; it is not underground. You can buy the tickets from Internet too. I think VOX have an agreement with Biletix, but you can buy tickets from the door too.
And I will open a distro again but this time I open a big one.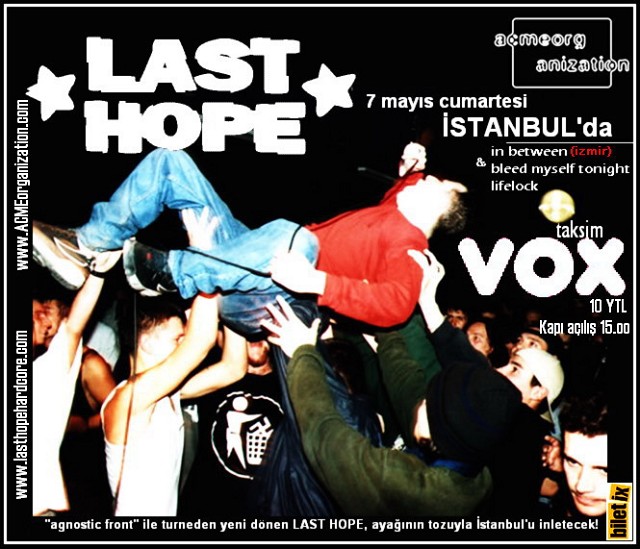 07.05.2005 Cumartesi Saat 15.00 Kapı Açılışı 16.00 Giriş: 10 YTL (Biletler Biletix ve kapıda aynı fiyat) Yer : Taksim VOX
Gruplar :
Last Hope (Bulgaristan / Hardcore)
In Between (İzmir / Emocore)
Lifelock (İstanbul / Hardcore)
Bleed Myself Tonight (İstanbul / Metalcore)
Organizasyon : ACME ORGANIZATION

Posted on 9.04.2005
Punkerland changed itselfs interface. Noizine.net is up again. Please check both sides up, if you are interested in Turkish Scene. Punkerland is a turkish e-fanzine and Noizine.net is an English one. Both sides have forum and you can learn some infos and download mp3s. Check this two sides if you are interested in Turkish underground punk scene.
Lifelock had updated their web-site. They closed all of thier web-sides from the Internet. Check this up and bookmark it.
I have two more exams at the university. I want to go gig tomorrow but maybe I can't. If I go there, I will open a mini distro there. Gig will be cool :)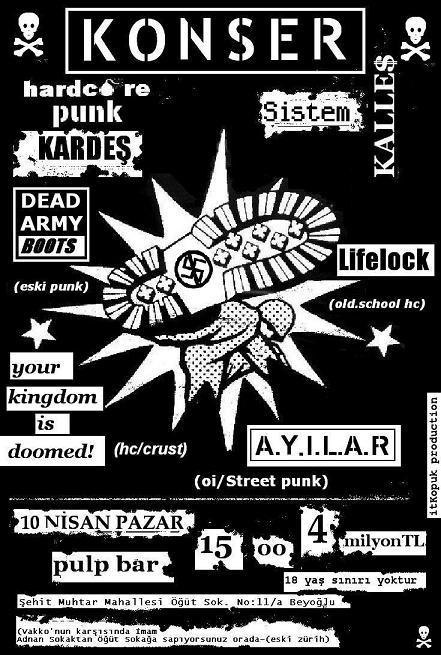 [..:Propoganda / News Archives:..]