Gigs and Events of the Month - Bu ay olacak konserler ve aktiviteler

KONSER!!! 25.05.2005 Perşembe Saat: 20.00 Yer: Taksim VOX CLUB Giriş: 10 YTL Bands: 100derece (İstanbul - Ska/Ragee), Bozuk Para (Bursa/İstanbul - Ska/Street Punk), Cemiyette Pişiyorum (İstanbul - Grunge/Punk), Şaşkın Bakkal (İstanbul ? - Punk)
Beleş Cemiyette Pişiyorum KONSERRİ!!! 24.05.2005 Salı Saat: 16.00 Yer: Mimar Sinan Fındıklı Kampüsü Mimar Sinan Bahar Şenlikleri Pazartesi Başlıyor Cumaya Kadar Sürüyor!
KONSER!!! 21.05.2005 Cumartesi Saat: 18.00 Yer: Taksin Sarpanita Bar Giriş: 7 YTL Bira: 2.5 YTL Bands: Lifelock (İstanbul - Hardcore), Missed Clown (İstanbul - Metalcore), Takedown (?? - ??), Not Made In China (İstanbul - Oldschool Punk) Poster
Beleş Açık Hava Konseri!!! 21-22.05.2005 Cumartesi-Pazar Yer: Kalamış Parkı KGM Bands: Kola (İstanbul - garage punk) ve Erotik Karate (İstanbul - Punk) Info


Olucak konserlerden ve aktivitelerden beni haberdar ederseniz sayfaya koymaktan mutluluk duyarım. If you send me gigs and events of the month, I will be happy and I will add it to site.



-----------------------------------------------------------------------------------------------------



Posted on 21.05.2005
Hi all! Finally I begin to update to my distro list. You can check it but only releases and diy tape/cd-r sections uploaded. I try to update all of them today and tomorrow. I think it will finish maximum next week. Keep enjoy with my list and please order some shit! :P
I found Sukk Productions new side. You must check this great underground distro from Turkey, Bursa. http://www.sukkprods.cjb.net/

Posted on 21.05.2005
Bugün kü konseri duyurmayı unutmuşum :(. Neyse... Hemen haber geçelim. Deli gibi ders çalışmam lazım o yüzden konser falan hikaye oldu. Missed Clown, Takedown ve Not Made in China'yı görmek isterdim. Lifelock zaten benim için 1 numara :) . Yukarda 1-2 haziran konseri haberi de ekleyim ortam şenlensin bari :P.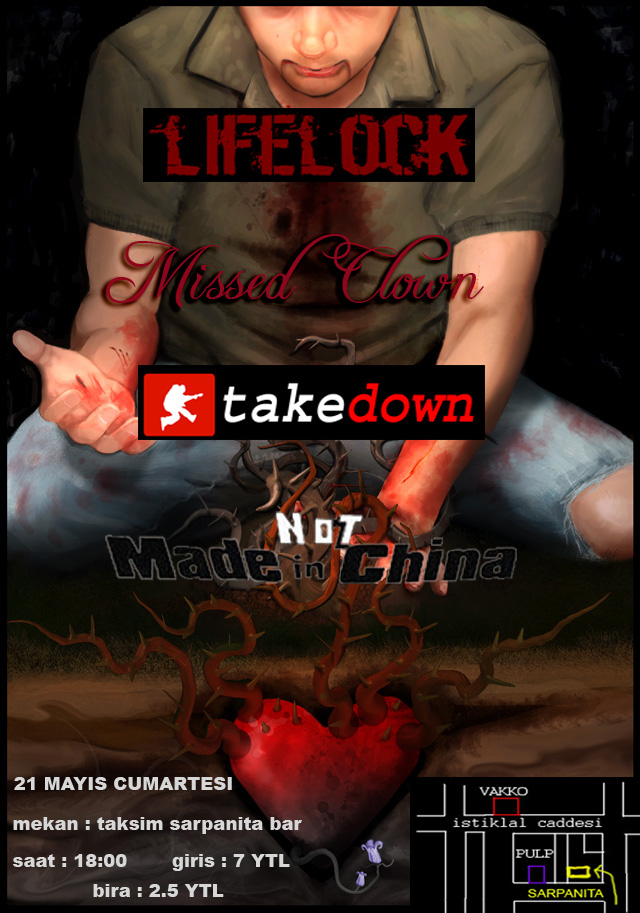 21.05.2005 Cumartesi Saat 18.00 Giriş: 7 YTL (Daha az olabilir) Bira: 2.5 YTL Yer : Sarpanita Bar İstiklal Cad. No:88 Rumeli Han Taksim
Gruplar :
Lifelock (İstanbul - Hardcore)
Missed Clown (İstanbul - Metalcore)
FC Ofisboyz (İstanbul / Oi! Punk)
Takedown (?? - ??)
Not Made In China (İstanbul - Oldschool Punk)
Organizasyon : Missed Clown Info : http://konser.8m.net/

Posted on 17.05.2005
I forgot to tell you about a grindcore concert in İstanbul at 15.05.2005 . The concert was at Bronx at 17.00. The bands was UÇK Grind(İstanbul - Grindcore) and Neoplast (İstanbul - Grindcore). I missed this gig because I haven't time, I must study :( . Some idiots think UÇK Grind is a millitarist or Nazi band, but THEY ARE NOT!!! I am sorry for miss that show. I hope someone make a punk & hardcore & girncore concert including these bands.
Bugün Punkerland ile Kadıköy'deki NOO RY Skate Shop'a gidip toplam 30 demo ve 2 fanzin bıraktık. İlgilenen olursa buraya gidip çalışan arkadaşa sorması yeterli olacaktır. Bu arada Noo Ry Skate Shopta Vens Ayakkabılar, deckler, tshirtler, pantalonlar ve bir çok ıvır zıvır daha var hatta çok ucuz! Gidip bakmanızı öneririm. Yeri: Kadıköy Barlar Sokak'ının (Kadife Sokak) bir üst sokağı Seba Çocuk Hastanesinin yanı. Yarın falan neler bıraktık yazarım sayfaya.
Posted on 15.05.2005
The concert was great at yesterday. Poster-iTi played with old line-up, Deniz (drums) had went back to the band. FC Ofisboyz was great too. They played with a good performans for first concert! Cemiyette Pişiyorum is always great :). Doğan (new Cemiyette Pişiyorum drums (2. concert) & Lifelock drums) played great!!! Sorry for Rint. They started to play at 23 and we must leave the place at 22.30, but thanks to Alper(Lifelock) we lost in İstanbul with Alper's car :), but we enjoyed with that 'cause we saw different places!
AMA Records and Distro opened a distro at concert and Bunu Sen İstedin and Stuka sold their demos too. I gave some of cd-rs and fanzines to AMA and he sold for me thanks to him. I bought Bunu Sen İstedin's demo with that demo and Stuka gave their demo for free :).
I noticed some morons in this concert too. Please protect our scene some fucking idiots want to destroy it with their macho-pogo (metalhead pogo or something like that shit)!!!!
Posted on 13.05.2005
Sorry for late updates about gigs and events. I am very busy with uni. Hhmmm yummie!!! I think we open the gig season. Every weekend there is a punk or hc concert here. I haven't seen it before. This is great for our scene but people must make some actions, not drink beer! And please don't allow fucking racist metalheads to gigs! You can recognize easily, they making macho pogo! Kick their fucking ass out of our gigs!!!!!

Thanks to Last Hope(Bulgaria Hardcore) for supporting our little scene!!! Last Hope played really perfect!!! I took a lot of pictures and some videos of them and other Turkish bands during the gig. I buy a Last Hope T-Shirt and last album "On My Way" and trade 4 cds with Alex (vocal of Last Hope). He is great guy!!! I hope we will see soon in another İstanbul concert!!! I was sad about fucking idiots don't buy great Last Hope stuffs. I opened a distro again but I could sell 3 fanzine and I got angry about my stupidness (carry a lot of stuff to sell but can't sell anything and carry them again to my home).

İlk çıkan grup Lifelock(İstanbul Hardcore Punk)'tu. Yine ve yine süper çaldılar kendilerini kutluyorum, ama demo nerde hani demo nerde????
İkinci olarak İstanbul'un yeni metalcore grubu Bleeding Myself Tonight çıktı sahneye. Dinlemediğim şarkıları ile döktürdüler bir de üstüne Radical Noise - Color of Hate şarkısını coverlayınca bilen arkadaşlar (direk videoya aldım) çoştu tabii bu arada grupta çoştu.
İzmir'den konuğumuz In Between(Post Hardcore.Emocore) yeni şarkılarıyla çoşturu. Demolarından beri epey yol kaydettikleri de açık. Bu arada Emre'nin üzerindeki Planets For Mistaken tshirt ü hoşuma gitmedi değil, fotolara bakarken fark ettim resmen :).
Last Hope(Bulgaria Hardcore) tabii ki süperdi. Agnostic Front ile turdayken epey gaz oldıkları belli. Pogo yapsam ayıp mı olur diyen Türk HC dinleyicisini çoşturdular. Süperlerdi!!! Alex'e bütün yardımlarından dolayı teşekkürü bir borç bilirim. Çok güzel çalıp sölediler (sanki türkü çaldılar a.k.). İnşallah bir daha gelirler.
Konserde bira su gibi akıtıldı ama Last Hope'da götlerine tenya kaçmış gibi pogo yapanlar paralarını Last Hope'un cdlerine değilde 6 milyonluk biralara harcadılar. Yine cd vs. alan herkes distrocu fanzinci tayfaydı yani zaten bu işle ilgilenendi. Tekrar bu kimseleri kınıyorum!!!

Birazda distrodan haberler verim. Epey bir trade sözü aldım. Yakında böle orjinal cdli bir distro liste bakıcaksınız. CD-R diye almayanlar artık alır herhalde değil mi? DIY olarak cd & tape ve fanzine olarak elime çok şey geçti bir ara sayfayı uğraşıp yapacam bakalım hayırlısı arkadaşlar.

Alın size bir konser daha!!!!!!!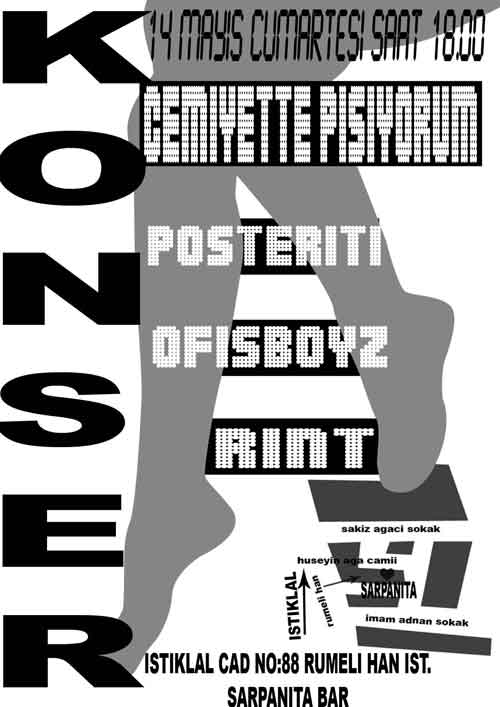 14.05.2005 Cumartesi Saat 18.00 Giriş: 5 YTL Yer : Sarpanita Bar İstiklal Cad. No:88 Rumeli Han Taksim
Gruplar :
Cemiyette Pişiyorum (İstanbul / Grunge-Punk)
Poster-iTi (İstanbul / Oldschool Punk)
FC Ofisboyz (İstanbul / Oi! Punk)
Rint (İstanbul / Grunge???)
Organizasyon : Artık Kafa Organizasyon


[..:Propoganda / News Archives:..]