Gigs and Events of the Month - Bu ay olacak konserler ve aktiviteler
Look at the Noizine-hardcore/punk/ska/Oi!/grind/noise webzine from türkiye for upcoming gig/show news and many more!!!

Yeni konser/şov haberi ve daha fazlası için Noizine-hardcore/punk/ska/Oi!/grind/noise webzine'e bakın!!!
Olucak konserlerden ve aktivitelerden beni haberdar ederseniz sayfaya koymaktan mutluluk duyarım. If you send me gigs and events of the month, I will be happy and I will add it to site.
Posted on 02.09.2007
Sorry for late update of gig. I am so busy nowadays...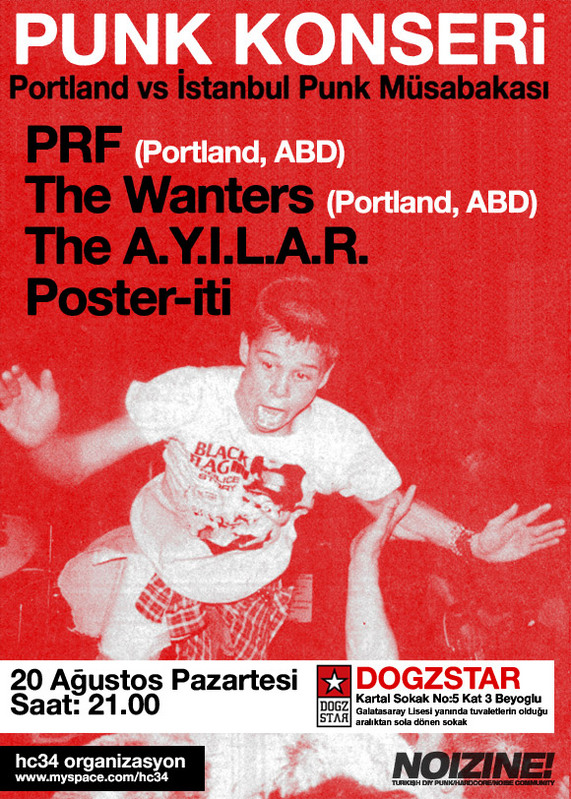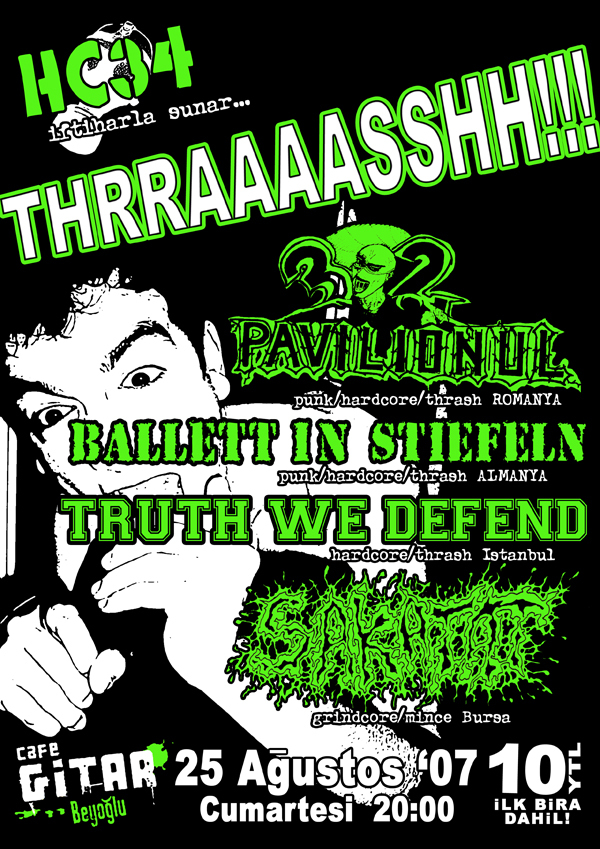 Posted on 19.08.2007
http://www.myspace.com/hc34 3 yeni konserle yine karşınızda... Umarım gider hem yerli hem yabancı grupları desteklersiniz. Merchlerinde satın alır onları benzin parasız bırakmazsınız. Attack To Society DIY Distro olarak yine konserlerde stand açma görevini üstleniyorum sanırsam, en azından İstanbul konserlerinde...
Yeni ürünler durmadan geliyor ve gidiyor. En son gelen fanzine Fanila zin (Resim). Hemen edinmenizi bekliyorum. Çok yakında yeni plaklar cdler gelicek merak etmeyin...


20 Ağustos Pazartesi akşamı Dogzstarda ikisi oregon portland diğer ikisi istanbul turkiye cumhuriyetinden olmak uzere 2ye2 tek kale mac yapilacaktir. musabaka 21:00 sularinda baslamakta ve girisler yeni turk lirasi uzerinden 10 ytl olarak belirlenmistir. tabi bu ucrete bira dahil. mekanin acik adresi afiste mevcut olmakla birlikte alakali linkler asagidadir. Herkesi bekliyoruz. yabanci gruplarin daha cok buralara ugramasi icin lütfen bu ugrasilarimizi destekleyin. gelin hepbirlikte muhabbet edelim eglenelim.
http://www.myspace.com/wolfgangwilliamsandthepunkrockfaggots
http://www.myspace.com/thewanters
http://www.myspace.com/posteriti
http://www.myspace.com/theayilar

---------------------------------------------------------------------

ABD Portland li PRF ve The Wanters istanbuldan hemen sonra 21 Agustos Sali gunu Biziz Rock Barda.Acilisi Rak yapacak. hemen akabinde Dengesiz Herifler sahne alacak. Giris 5 YTL Herkesi bekliyoruz... Poster
http://www.myspace.com/wolfgangwilliamsandthepunkrockfaggots
http://www.myspace.com/thewanters
http://www.myspace.com/dengesizherifler
---------------------------------------------------------------------

25 Agustos Cumartesi günü yine internasyonel bir hardcore/punk günü sizleri bekliyor. Bu sefer Romanya'dan Pavilionul32, Almanya'dan Ballett in Steifeln e, İstanbul'dan hardcore grubu Truth We Defend uzun aradan sonra tekrar yeni parcalariyla konsere destek olacaklar. Bursa'dan grindcore grubu Sakatat ise diger grubumuz. Bu onlarin ilk konserleri. Mekan Gitar Bar. istiklal Caddesi Garanti Sanat Galerisi ve Converse satan spor magazasinin araligindan giriyorsunuz. sokagin bitimine yakin sol tarafta mekani göreceksiniz. Konsere ise giris 10 YTl ve buna ilk biraniz dahil. Saat 20:00 gibi gruplar sahne almaya başlayacak. Bu güzide geceyi yine HC34 düzenlemekte.
http://www.myspace.com/hc34
http://www.myspace.com/ballettinstiefeln
http://www.myspace.com/pavilionul32
http://www.myspace.com/truthwedefend
http://www.myspace.com/sakatat


Posted on 11.07.2007
NEW UPCOMMING SHOW!!!

21.07.2007 Saturday 20.00
Misery Index (USA-Anti-Grindcore / Death Metal)
Decimation (Ankara-Death Metal)
@ Bronx Bar Entrance:15 YTL Terkos Çıkmazı No:8/1 Pera Beyoğlu Taksim İstanbul *All Age Show!*gig info Poster


Posted on 26.06.2007
Hey Folks! Obstructed - Demo 2006 was released months ago and finally my semester is finished. I begin to update the list again and it will be best cause there is so much new stuff, 7"s, 12", Fanzines, cds and tapes. All is in my taste and ready to order. take care.
Ungeren and Köpi are evicted/destroyed and sold. What damn things are happing nowadays. They try to destroy our culture, because we are damn right before years ago. First punks said in begin of '80, that Global Warming is dangerous and moron G8 members talking about it new. What a world, what a dream?!

Posted on 11.02.2007
Hey Folks! I am happy to make a fresh beginning again with the distro. Your Kingdom Is Doomed! / Yakopsae Split 7" arrived! I bought 5 copies to the distro but 1 of them already sold. :D In February I will release Obstructed - Demo 2006. All things are ready to flight but there is a little cover mistake and after it you can begin to order it. It is CD-R and photocopy cover again, Long Live DIY! I think there is no shop left at İstanbul to put this release but you can e-mail to me and we can handle a trade or little shoping. Take care! Picture

Posted on 02.02.2007
NEW UPCOMMING SHOW!!!

03.02.2007 Saturday 16.00
The A.Y.I.L.A.R (İstanbul-Anti-Fascits Oi! Punk)
Kaygan Zemin (İzmir-PopPunk/Punk/Rock)
Truth We Defend (İstanbul-Positive Hardcore)
@ Gitar Bar Entrance:6 YTLBeyoğlu İstanbul Poster

NEW UPCOMMING SHOW!!!

03.02.2007 Saturday 18.30
Noisy Sins Of Insect (İstanbul-Scremo)
Proudpilot (İstanbul-Rock/Experimental/Other)
Kim Ki O (İstanbul-Powerpop/Big Beat)
@ Liferoof Entrance:7.5 YTL (+First Drink) Beyoğlu İstanbul Poster

NEW UPCOMMING SHOW!!!

10.02.2007 Saturday
Bad Trip (???-???)
Poster-iTi (İstanbul-oldschool punk)
KPS (ex-Terbiyesizler) (Ankara-???)
KYMBOO (???-???)
@ IF Performance Hall Entrance:??? YTL Ankara Poster




[..:Propoganda / News Archives:..]